Amada Senior Care Interviews Our VP of Strategic Partnerships, Carmen Perry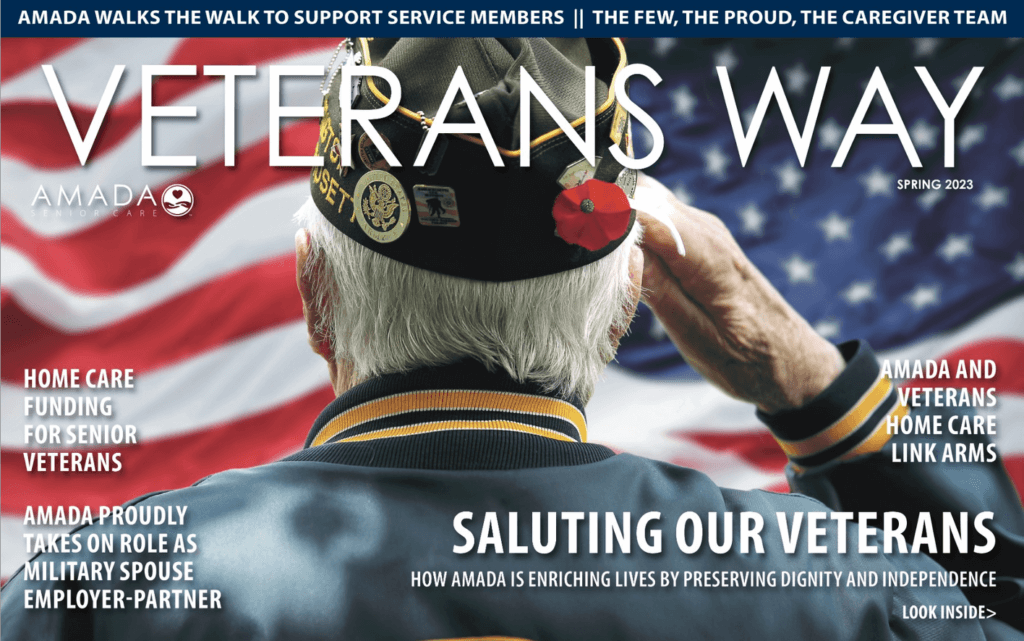 Veterans Home Care partner Amada Senior Care interviewed our Vice President of Strategic Partnerships, Carmen Perry, for the Spring 2023 edition of its publication, Veterans Way. Amada's Director of Research & Development, Michael Robirds, covered with Perry topics such as the work VHC does with veterans and their families, its greatest challenges and surprises, and the reasons behind its success.
Perry has worked with Veterans Home Care since 2013, when she initially joined part-time, unaware of the impact the work and the people would have on her life. Less than two months into her tenure, she had the opportunity to witness the dire dilemmas faced by veterans and their caregivers, as well as participate in meeting their most urgent needs. "I say we are in the business of changing lives, but that day, I was able to save a life," she told Robirds.
Living Our Mission
Perry described the history and mission of Veterans Home Care for the Veterans Way audience, touching on founder Bonnie Laiderman's difficult experience accessing care for her mother, Edith. Vowing to save others suffering and frustration, she founded VHC in 2003. Over the last twenty years, we have helped 20,000 veterans and their spouses apply for and collect life-altering benefits from the VA—benefits they often don't know exist.
Perry added, "We currently are helping about 150 new vets a month," with experienced field representatives carrying an average of seven years' experience in assisting veterans and their families access their benefits.
"We Do Not Stop Trying to Help"
As many veterans and their spouses have discovered, sometimes access is stalled, and on occasion, they and our field reps are disappointed to learn they don't qualify for the benefits they sorely need. Perry called this "without a doubt, the hardest part" of our work. However, she added that this does not stop us from doing everything we can to make sure our nation's heroes receive the care they need. "We will look for other avenues," she explained, touching on possibilities like donated care or split cost opportunities.
20 Years of Service
Having just celebrated our twentieth anniversary, Veterans Home Care has the same passionate focus and two decades' more experience in helping more veterans and their spouses learn about and receive VA care benefits that can help them live safer, healthier lives.
To read the full interview with Carmen Perry (pages 5-6) and the rest of the Veterans Way Spring 2023 issue, click here.
If you or your loved one is a veteran, and the challenges of researching and applying for care have you overwhelmed, please reach out to us. Our team is knowledgeable, friendly, and committed to helping you apply for and receive benefits through the VA Pension with Aid and Attendance. Reach out to us by calling 888-314-6075, email us at info@veteranshomecare.com or contact Veterans Home Care online at www.veteranshomecare.com.