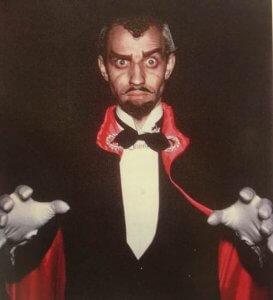 From circus to cinema, Douglas B. Hobart, has had an enviable career in the entertainment industry. He was born May 20, 1927, the same day the famous aviator Charles Lindbergh took off on his historic transatlantic flight to Paris. He literally grew up in the circus as his father was a talented circus musician. His mother's family ran a bakery and boarding house in Middleton, Ohio where many theatre, circus and vaudeville entertainers would stay.  
"I was fascinated by show business from a very early age and I have pursued this interest with intensity to the present time," says Doug. "I performed in vaudeville, burlesque, on stage, on television, and on the big screen in full-length motion pictures."
While his father wanted him to become a musician, Doug was fascinated when he went backstage and saw actors apply their theatre make up. While living in Florida on his tenth birthday, one of those actors gave him a gift he never forgot. It was a fishing box filled with spirit gum, nose putty, grease paint and crepe hair. The box was marked, "Professional Makeup Kit."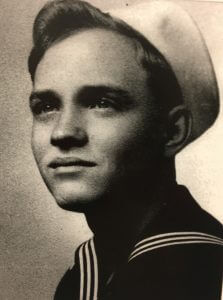 After his close boyhood friend, Frank Hamilton, became a sailor during WWII, Doug was inspired to enlist. The problem was that Doug was only 17 years old and under age. He could only enlist with parental consent and although his father was reluctant, he finally allowed Doug to join t
he Navy. Doug enlisted in Miami, Florida and during his medical exam, the doctor found he had a hernia. Despite the hernia, they sent him onto Bainbridge, MD for 10 weeks of boot camp. After that, he boarded a troop train headed to Shoemaker, CA. "When I arrived, I was assigned to a destroyer ship and I took my sea bag and went on boar
d. I was given a bunk and was settling in when I heard, "Hobart – front and center. You are to report to the hospital now!" I reported to the hospital, sea bag and all and was told I would have to be operated on for a hernia. I got scared and fainted and woke up in the psychiatric ward. A psychiatrist named Dr. Branch talked to me and told me I was suffering from a nervous disorder. I had several sessions with him, then I got a three-day pass to San Francisco. While I was there, Japan surrendered and the war was over! The city went nuts! Everybody was hugging and kissing everybody. A guy with a liquor store broke his front window and was giving away free bottles of liquor," recalls Doug.
When he returned to his base, he was told that he would be honorably discharged from the Navy on August 17, 1945. He told them he'd rather stay in the Navy but was told that he couldn't. He had enlisted for the duration of the war and it was finally over. So due to his youth and the timing of the war, Doug never saw combat or left to fight in the Pacific.
"Dr. Branch said I would be fine and to keep in touch. I never did get the hernia repaired until I got home, but I did later write to Dr. Branch," said Doug.
After the war, Doug married Rosemary Henry and had five children: David, Charles, Mary, Robert and Thomas. Without a high school diploma, early on, Doug struggled to find work to support his family. Yet, with his work ethic, ingenuity and creativity, he always managed to find a job or start a business of his own.
After the war, he combined his talents in special effects, makeup and acting to create and host a "midnight spook show." The show, entitled "Dr. Traboh and his chamber of monsters" covered all or parts of Ohio, Kentucky and Indiana and featured a Frankenstein monster, a wolfman, and "five dancing dragonettes." The local show lasted nine years and ended in the mid-1950's.
In films such as "Death Curse of Tartu" and "Sting of Death" some of the monsters Doug portrayed he also created.
He has various credits for acting, stunts production, special effects or makeup in the following horror films:
1958
The Professor
 (TV Movie) the Werewolf
1965
Sting of Death
 Egon (as a jellyfish-man monster & stunts) 
1966
Death Curse of Tartu
 Tartu (as Douglas Hobart & special makeup effects artist)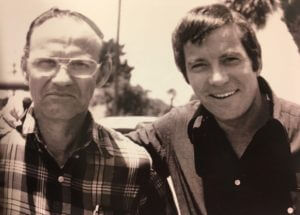 1967
The Weird World of LSD
 (producer)
1968
My Third Wife, George
 Courtroom Man (uncredited)
1968
Fireball Jungle
 (special effects) 
1968
Savages from Hell
 (production manager) 
1969
Scream Baby Scream
 (special makeup effects artist – as Douglas Hobart) 
1970
Flesh Feast
 (special makeup effects artist) 
1970
Flesh Feast
 (special effects) 
1970
The Love Pirate
1970
The Naked Zoo
 (assistant to the producer – as Douglas B. Hobart)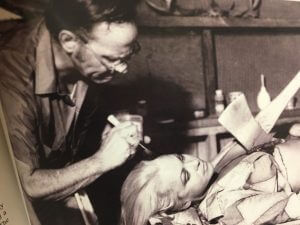 1974
Impulse
 Dead Man in Coffin at Mortuary (uncredited)
1974
Impulse
 (associate producer – as Douglas Hobart) 
1976
Blood Stalkers
 (makeup effects) 
2016
They Came from the Swamp: The Films of William Grefé
 (Documentary) Himself
In 2015, at age 88 Doug like many seniors, was experiencing problems living independently at home among all his show business memorabilia. He met Stan Wojcik, regional manager at the VetAssist Program. Stan told him that due to his wartime service, he was eligible for military benefits to pay for in-home care. Assistance includes such things as: help with bathing, dressing, meal preparation, light housekeeping, etc. The VetAssist Program is offered coast-to-coast in 44 states across the country to help veterans and their surviving spouses obtain a little-known pension from the Department of Veterans Affairs (VA) with an extra monetary amount for "Aid and Attendance." The VetAssist Program is for those who choose to use their VA funds primarily for in-home, custodial care or adult day care. Through the VetAssist Program, Doug got help with all the paperwork and VA claims process and in-home care began right away. His home care aide is from Senior Helpers in Florida, one of the contracted home care agencies in the VetAssist Program's provider network.
Many wartime veterans like Doug do not realize they qualify. Doug's story illustrates how combat duty or overseas service is not a requirement for the VA Pension with Aid and Attendance. Find out if the VetAssist Program can help you, please call
888-314-6075
or email us at
info@veteranshomecare.com
.
"You might say that I have had a very 'entertaining' life so far," said Doug who has written,
From Circus to Cinema– An Autobiography.
He is now looking for a qualified publisher. We wish Doug continued success in his new endeavors and thank him for sharing his story with our veteran community.