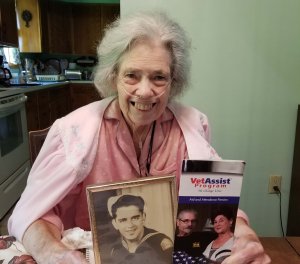 New VA rules effective October 18, 2018 open the door to more deserving wartime veterans and surviving spouses who are over age 65 and need help at home.
KTRS Radio's Jennifer Blome and Jay Gray's Veterans Day talk show mentioned recent changes from the Department of Veterans Affairs (VA) regarding a little-known pension for elder wartime veterans and surviving spouses.
Veterans Home Care CEO Bonnie Laiderman summarized the key changes to the Pension often called "Aid and Attendance" such as an increased net worth limit and new rules for transferring assets to meet the net worth limit. Bonnie has unparalleled expertise helping people apply for this specific VA benefit.
KTRS Radio Interview:
---
| | |
| --- | --- |
| Jennifer Blome: | Welcome back everyone. It is 11:09 on this Veterans Day holiday. It's Monday, November twelfth. If you're a veteran or a surviving spouse, there's a program called the VetAssist Program that can help you. Bonnie Laiderman joins us online. Bonnie's the CEO of Veterans Home Care. Bonnie. Thanks for joining Jay and me. |
| Bonnie Laiderman: | Good morning. Thank you for having me. |
| Jennifer Blome: | So one of the things you were telling me about is that there are new changes to a VA benefit, which is known as Aid and Attendance. Can you tell us what that is? |
| Bonnie Laiderman: | Yes, there are. It is a change in the dollar amount of liquid assets. They have changed it from a maximum of $80,000 to $123,600. They are following the format of Medicaid where there is a look-back period. |
| Jennifer Blome: | And Bonnie, you told me you started Veteran's Home Care because you had a family member who had trouble accessing benefits. Can you tell us about that? |
| Bonnie Laiderman: | My mom was the surviving spouse of a veteran Korean War and she developed breast cancer and was alone in Florida. I live in St Louis and her income was $633 a month and Medicaid in Florida wasn't willing to give her home care. So I went there one weekend of every month for nine months and I found out in the ninth month that there was something from the VA that nobody knew about at that time and it was a little-known pension and it can pay for home care. So my mom unfortunately passed away and it made me so frustrated that there was something available for veterans that fought for our freedom and surviving spouses who supported these veterans and I tell mom just before she died I was going to start a company and help all the people I could to get this program. And in 16 years we've helped over 15,000 people obtain this pension that pays for home care that helps them stay in their home and age with dignity and quality and we are very successful at it |
| John Gray: | Is this through the VA or is this a combination of Medicare, Medicaid and VA? |
| Bonnie Laiderman: | It's strictly a VA pension. My company is a private company. We are not part of the VA. |
| Jennifer Blome: | So, who pays you? |
| Bonnie Laiderman: | The client pays us through giving them home care. We earn our living in giving our clients home care. |
| Jennifer Blome: | then... |
| Bonnie Laiderman: | They use the money from the pension. |
| Jennifer Blome: | Okay. And Bonnie, you said that a pension exists for veterans who have non service-connected disability? |
| Bonnie Laiderman: | Yes. This is a pension called Aid and Attendance. It's a disability pension for anyone over 65 that served during a war time with an honorable discharge and they have to have a serious medical condition that keeps them 60 percent or more housebound and it's really dependent on their income and assets, |
| Jennifer Blome: | But their disability does not have to be as the result of their service. Is that correct? |
| Bonnie Laiderman: | Definitely not. |
| Jennifer Blome: | So who in our audience, um, might need your help and how can they get in touch with you? |
| Bonnie Laiderman: | Okay. The people that need our help are people that are aging, that are elderly, that have nobody to come in and help them with cooking and cleaning and laundry and get their food for them, make a meal and they can get information from Veterans Home Care through our call in number. And I'll give that to you. It's three. one, four. I'm sorry. (888-314-6075) |
| Bonnie Laiderman: | I have it. I think it's (888-314-6075) |
| Jennifer Blome: | That's what I saw on your website. It's an 800 number too and oh my goodness. I'm going to give you our other number and anybody can call in through this number. (Veterans Home Care toll free 888-314-6075.) |
| Jennifer Blome: | Okay. We're talking to Bonnie Laiderman who is the CEO of Veterans Home Care, which is based here in St Louis and offers help for aging veterans |
| John Gray: | And it is amazing how many things are available. The morass of regulations and rules and statutes out there. It's no wonder many veterans don't know what they're entitled to and many of the surviving spouses or the spouses, the kids, whatever it is, there are things that are available and they just don't know. |
| Bonnie Laiderman: | The number is 888-314-6075. |
| Jennifer Blome: | Bonnie Laiderman, CEO of Veterans Home Care. Thank you so much for joining us on KTRS again, the number if you need help. 888-314-6075. Thank you Bonnie for chatting with us. |
| Bonnie Laiderman: | Thank you. Have a wonderful Veterans Day! |
| Jennifer Blome: | You too. |
If you need help applying for the VA's Aid and Attendance pension and wish to use those funds primarily for in-home care or adult day care, call Veterans Home Care at 1-888-314-6075 or email info@veteranshomecare.com