"We're not a typical home care agency competing with other home care agencies," said Veterans Home Care President Larry Kay. "We actually help other home care agencies market their services by showing them how some wartime veterans and surviving spouses can access military benefits to pay for home care."
This was just one of the marketing tips shared at the July 25-27 Hurricane Marketing Bootcamp at Ameristar Casino near St. Louis, Missouri.
"Home care agency owners are always looking for ways to help their disabled clients and we can help them do that," said Veterans Home Care President Larry Kay.
Larry and Territory Manager Robin Borders spoke to more than 100 home care agency professionals July 26 about a little-known benefit called "Aid and Attendance" from the Department of Veterans Affairs (VA) for wartime veterans or their surviving spouses.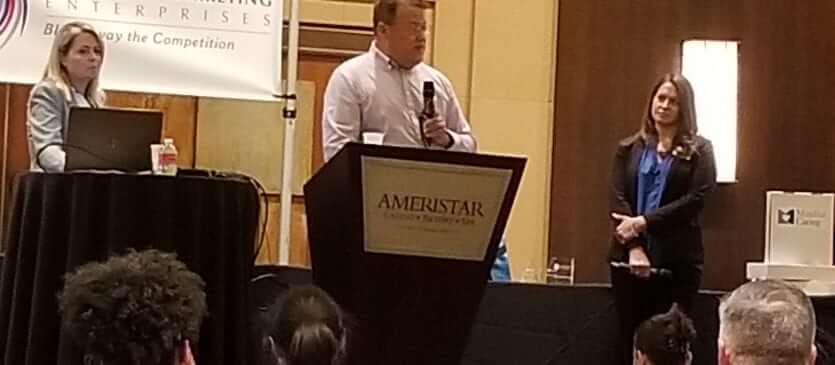 Veterans Home Care offers the VetAssist Program to a niche of wartime veterans and surviving spouses eligible for the VA Aid and Attendance benefit. This benefit is actually a VA pension that pays for the aid and attendance of another person so that the veteran or spouse can live more independently. The VetAssist Program is essentially access to in-home care paid by military benefits.
Veterans Home Care has a provider network of close to 3,000 contracted home care agencies in 44 states that provide the care. Veterans Home Care's staff has the expertise to help veteran families file a claim with the VA so they can receive the benefit. They also offer a 0% interest-free loan so that home care can begin while the VA is processing the claim and before the veteran or spouse receives funds. When the claim is approved, VA funds are retroactive from the time the application is received by the VA, which enables veterans and spouses to repay their loan without any out-of-pocket costs. After VA entitlement, Veterans Home Care's team assist their clients in monitoring their health care and home care expenses so they remain in compliance with the government and keep the benefit.
When a home care agency partners with Veterans Home Care, they refer their clients who are wartime veterans or spouses to the VetAssist Program to see if they are eligible for VA benefits. Likewise, when Veterans Home Care receives a new client they rely on a home care agency in their network to provide care.
"I love telling Bonnie's story—especially to this audience," said Robin Borders referring to Bonnie Laiderman, the founder of Veterans Home Care. "Bonnie started her business in 2003 just after her experience as a caregiver to terminally ill mother. As a surviving spouse of a Korean veteran, her mother would have qualified for the VA Aid and Attendance benefit but sadly she passed away before the application could be approved. At that time, she had no idea that her solo operation would become a large family-owned company serving veterans and spouses from coast-to-coast," said Robin.
Hurricane Marketing is a company with specialized sales and marketing expertise in the home care industry offering a coaching program, online training and boot camp events where speakers share their best marketing tips and strategies. For more information go to www.homecaremarketing.net or call 848-444-9865.
To learn more about becoming a home care agency partner in the VetAssist Program provider network or about VetAssist Program eligibility for a veteran or surviving spouse, visit: www.veteranshomecare.com or call 888-314-6075.