What's Your Life Expectancy? Will You Reach Queen Elizabeth's Age?
One of the biggest news stories in 2022 is the death of Queen Elizabeth II on September 8. Dying at the age of 96 is remarkable. It's also worth mentioning that her mother, known as Queen Elizabeth The Queen Mother, surpassed her daughter's lifespan and lived to be 101. Many wonder about their own life expectancy. Will I reach Queen Elizabeth's age? Will I reach my 100th birthday and be a centenarian? Who will care for me in my old age? How will I pay for care?
Veterans Home Care's Oldest Clients Featured in McKnights Home Care Publication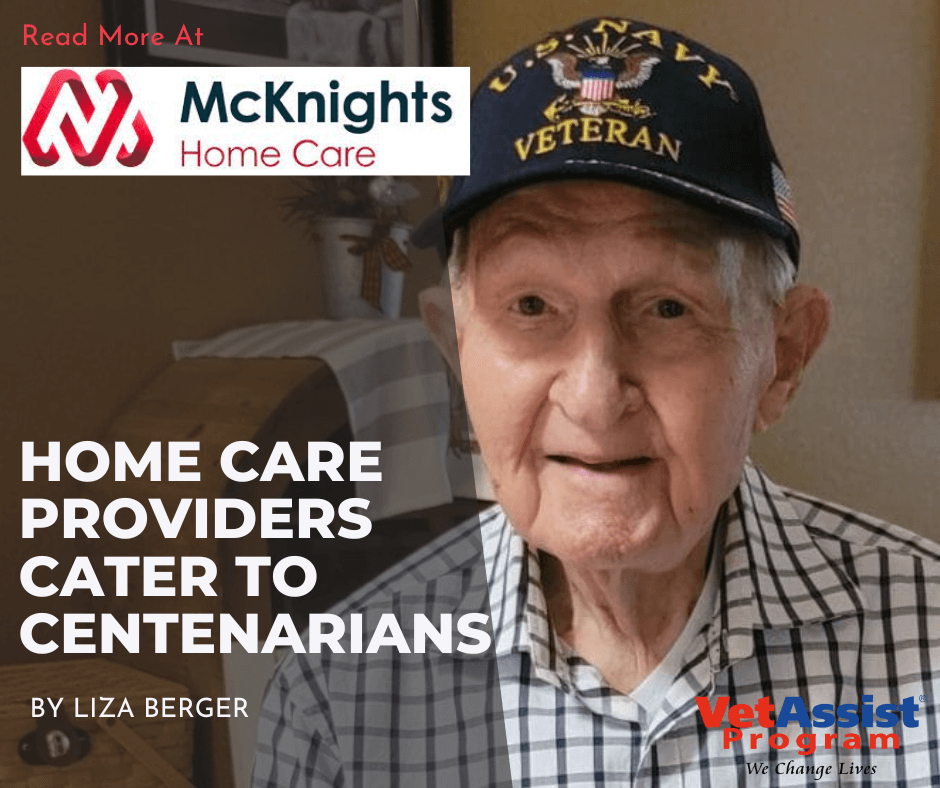 Recently, McKnights Home Care featured Veterans Home Care and several of our oldest VetAssist clients including 105 year-old William Darwin and Belle Christian, a surviving spouse of a WWI veteran who died at 108 years old. Click here read the complete article, Home Care Providers Cater to Centenarians by Liza Berger. Liza says people are fascinated by old age and are often curious about what centenarians eat and other aspects of their life.
What is Your Life Expectancy?
According to the CDC, the average American life expectancy dropped slightly in 2020 and 2021 due to COVID19. Still life expectancy today is much longer than the life expectancy of our ancestors. Currently Americans can expect to live on average 76.1 years down from 77 years in 2020. Women in the U.S. on average live longer than men. Women have a life expectancy of 79 years old verses 73 for men. Life expectancy varies by state with the highest in Hawaii (81 years old) and the lowest in Mississippi (71 years old).
Life Expectancy Calculators
Actuaries have developed life expectancy calculators to help people plan for their old age and retirement. Click here for a basic life expectancy calculator available from the Social Security Administration. Other calculators include medical information, family history, education, marital status, diet and tobacco usage. Thomas Perls MD, MPH designed a comprehensive life expectancy calculator based on Boston University's New England Centenarian Study, one of the largest studies of its kind.
Veterans Home Care Serves Many 100-Year-Old Clients
Veterans Home Care clients, like all seniors today, are living longer. This includes some 40 clients who are 100 years old or older.
"Each month, there's typically at least one client celebrating a 100th birthday," said David Laiderman, CEO of Veterans Home Care (VHC). Currently, our oldest living clients were born in 1916, making them 106-years-old.
Delaying In-Home Care Due to Cost
Many seniors who could benefit from in-home care (assistance with activities of daily living) don't access it because of cost. Hence, seniors often sign up for care in their late 90s, or as centenarians, even though some could have benefited from care sooner.
Because Medicare doesn't typically cover the cost of home care, families may wait until the senior's situation is dire to hire help. Medicaid addresses home care for indigent seniors and often middle-class seniors will age long enough to deplete their assets and become eligible for Medicaid. VA benefits such as Aid and Attendance can also fund in-home care starting at 65 years of age for those who qualify.
Don't Wait Until You Reach Queen Elizabeth's Age To Seek Care
"Our main message to families with older adults is not to wait to seek home care services for your loved one because VA funding may be available. Every day, through our website and referral sources, we reach a family that was unaware of the VA Aid and Attendance benefit" says David.
Helping Older Adults Pay for Home Care
Most home care agencies are likely to be seeing older clients but Veterans Home Care is unique with its flagship VetAssist Program. All VetAssist clients are either wartime veterans or surviving spouses of wartime veterans who qualify for the VA's Aid and Attendance benefit. The VetAssist Program helps those who qualify get in home care started with their VA funds before VA funding begins. To learn if your or your loved one is eligible, call 888-314-6075 or email info@veteranshomecare.com.