Honor Flights for Veterans: Support Recognition for Our Nation's Heroes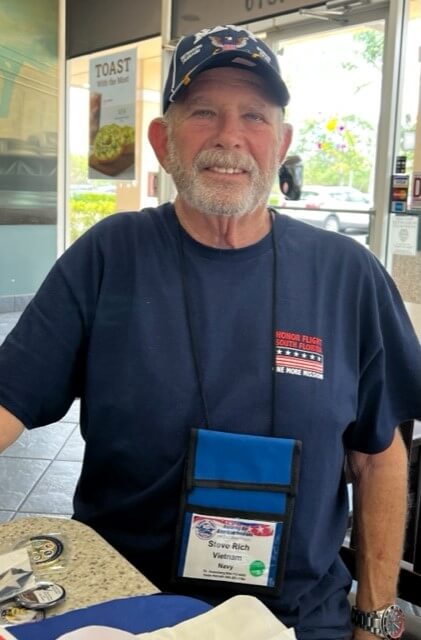 Steve Rich arrived at his usual bagel shop in Coral Springs, FL, and ordered breakfast, unaware that he was about to have a life-altering conversation—all because of his Navy hat.
"A woman came over to me and said, 'Have you ever gone on an Honor Flight?' I said no, and she said 'Well, we're looking for volunteers.' She went to her car and got me an application. She said, 'Please fill it out. We really need volunteers to go.'"
That application sat on a table for three days as Rich considered whether he would entertain the thought of an Honor Flight, something about which he knew virtually nothing. "I didn't know anybody who had done this. I wasn't the type to go sightseeing." He was skeptical, but curious enough not to throw away the application.
While picking up a prescription at his local VA, he saw a fellow Vietnam veteran waiting. "He was wearing a Vietnam Veteran hat, which I had seen before, but on the back was 'Honor Flight South Florida.'" Intrigued, Rich asked him about the Honor Flight. The man's response—that it was tiring, but well worth it—further piqued his interest. Rich went home and filled out the application. After he submitted it, he got a confirmation postcard and phone call. The caller asked "if I would be willing to go on a last-minute flight, and I said, you can call me that morning. Now I was excited!" On Saturday, April 1, 2023, Rich took his Honor Flight, and he has been thrilled to talk about it ever since.
The Honor Flight Mission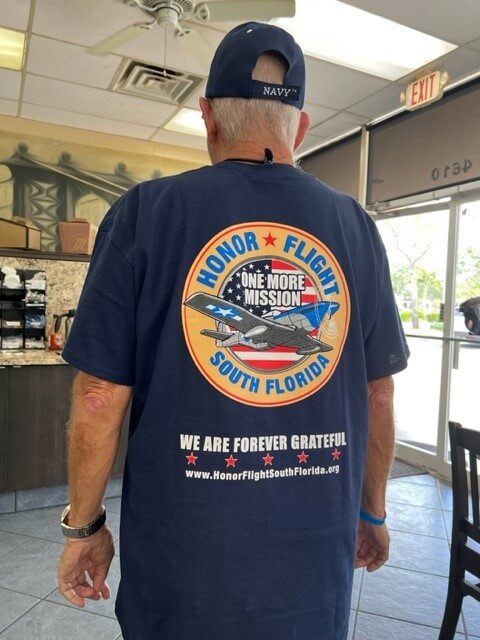 The Department of Defense calls the Honor Flight "an opportunity to honor and thank the Americans who secured our freedom by bringing them to the nation's capital to see the memorials that commemorate their service." Over 200,000 veterans across the United States have taken these special day trips since 2005. The not-for-profit Honor Flight Network raises funds to ensure these flights are completely free for veterans, from early morning pick-up to evening drop-off, with all meals and medical care included. (Loved ones may join the flight for a fee.) Who is eligible for the Honor Flight? Veterans serving anywhere in the world during World War II, the Korean War, and the Vietnam War are selected based on considerations of age and health. (Note that exact service dates vary slightly between hubs and sponsoring organizations.)
The Honor Flight Experience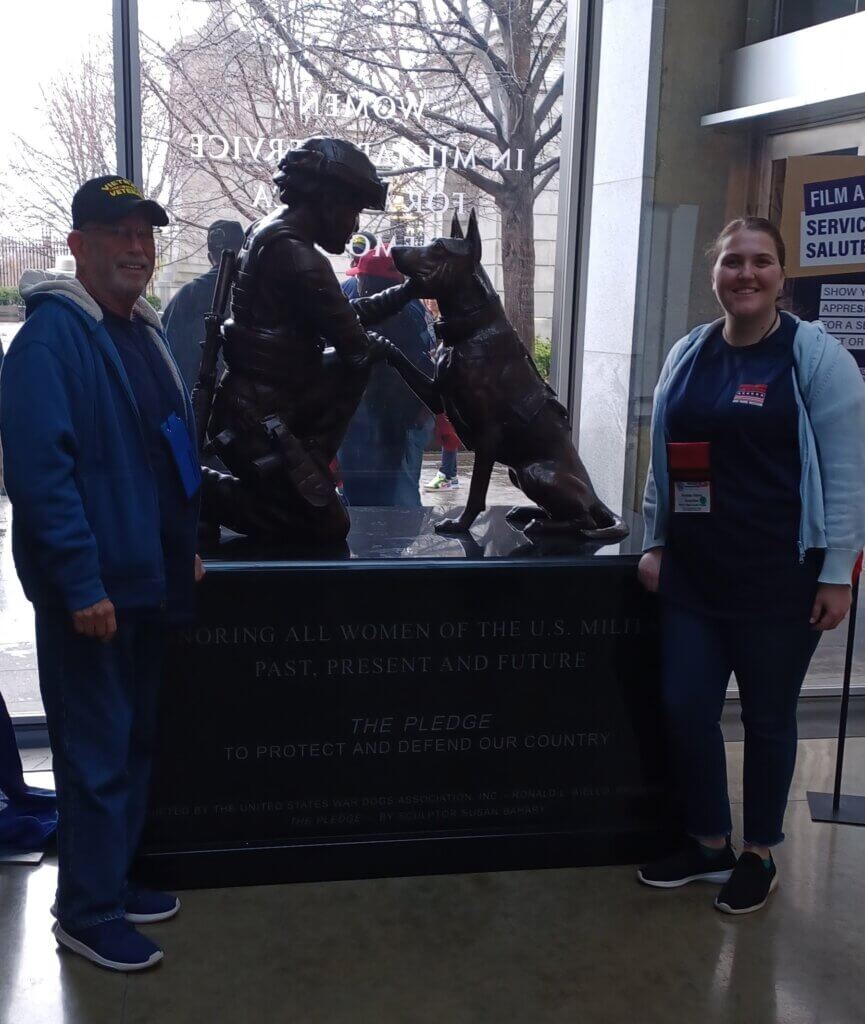 Rich was intimidated by the 3:30AM meet-up time, but was pleasantly surprised to see his neighbor, Guido, there as well. They chuckled at their mutual neglect of telling each other about their Honor Flight. Rich was also tickled to find that their bus to the airport was escorted by police cars, lights flashing and sirens blaring as they coasted through every red light.
Like all participants, Rich was assigned an Honor Flight Guardian, who would prepare him ahead of time and accompany him throughout the entire day. His Guardian, Alyssa, was also joined by her mother, who had previously taken an Honor Flight herself. Rich remarked that Alyssa, a first-time Guardian, seemed even more excited than he was.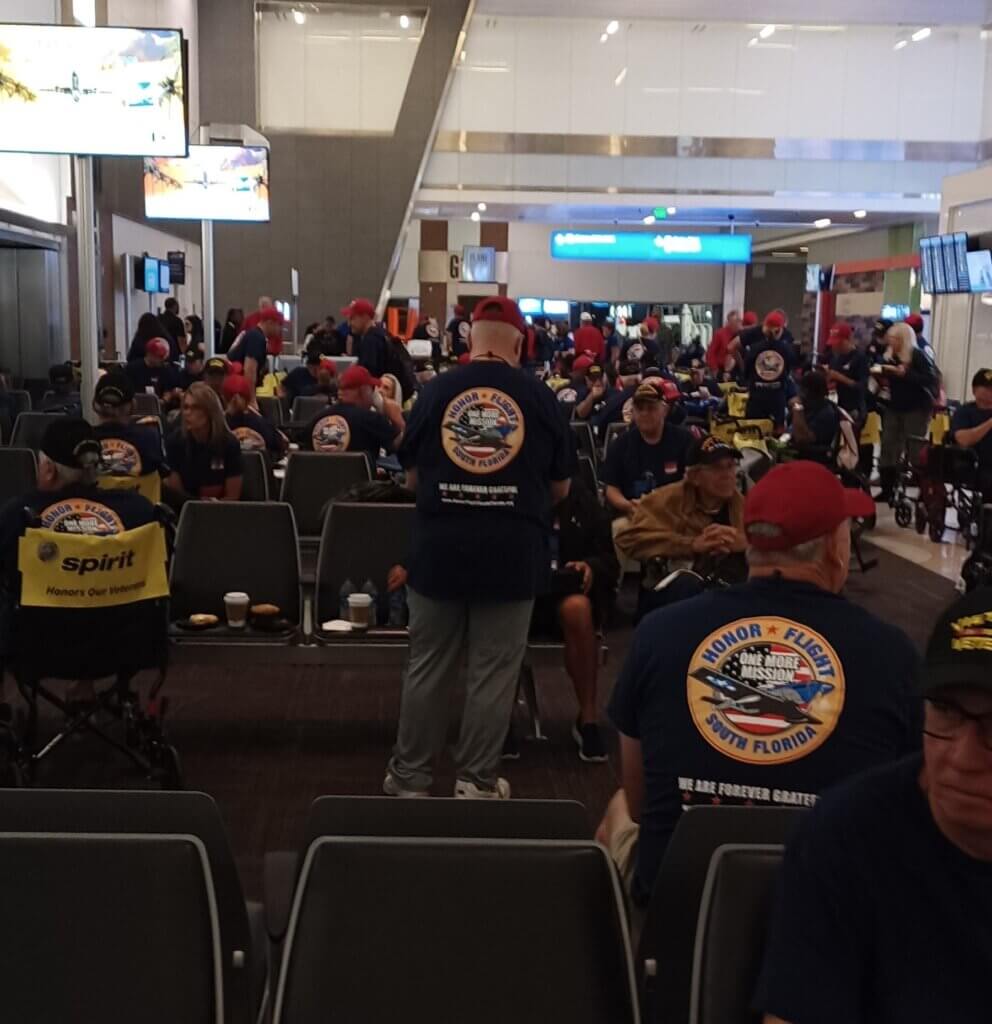 At the airport, Rich and his fellow veterans were given shirts, hats, and color-coded name tags to wear for the rest of the day. They were also each given an item that made Rich bristle somewhat: a wheelchair. Though he doesn't use one day-to-day, Rich consented to being wheeled and seated when required. This set the tone for the day, where he was waited on hand and foot. "I felt like a king. They wouldn't let you do anything. Whatever assistance they could give you, they did, and more."
The group of 68 veterans—which included two WWII veterans—were fed breakfast and offered snacks and drinks all day. Besides Guardians and support staff, they were also accompanied by medical staff, including two doctors.
At take-off, the plane was flanked by two fire trucks shooting water overhead and creating a rainbow arch. The luggage handlers on the tarmac cheered their departure as the sun rose and the veterans relaxed and began talking, with good natured ribbing between the different branches. "They teased each other a little bit. There was such camaraderie. Everybody got along."
Upon their arrival in Baltimore, the group was once again escorted by police cars, noisily attracting the attention of cheering bystanders all the way to Washington, D.C. "[There were] hundreds of strangers that had nothing to do with this Honor Flight. They just happened to be there to visit the sights. We turned out to be the biggest sight."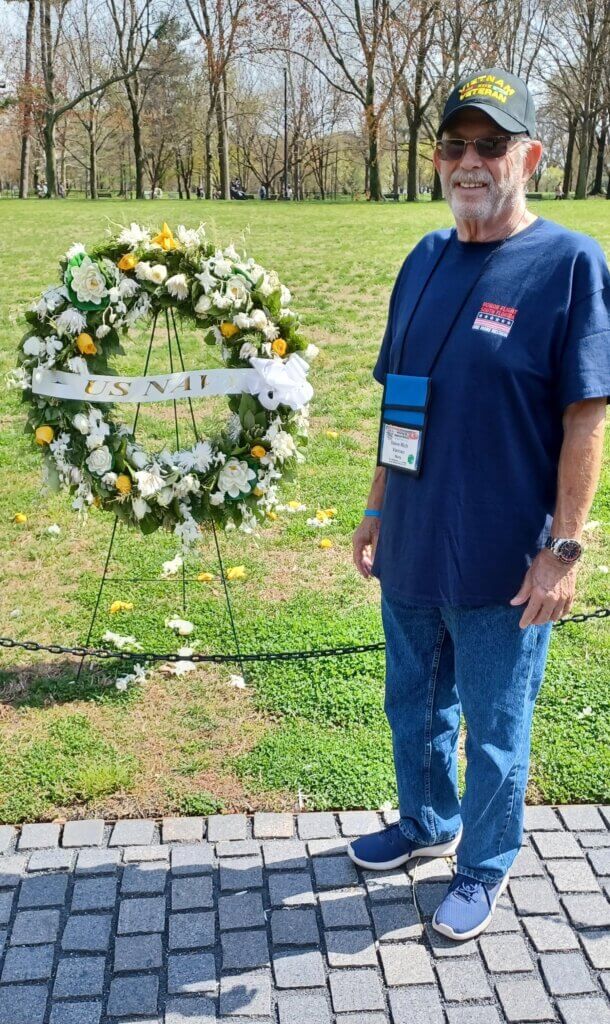 Rich noted that all day, they received cheers and applause from the tourists and staff of every site they visited. They covered memorials for each of the wars represented by their group of veterans, as well as visited Arlington National Cemetery and witnessed the changing of the guard ceremony. Though these were meaningful experiences, Rich felt that the reactions from the people they came across were the most astounding and moving part of the day.
The Honor Flight Legacy
On the flight home—fanfare all the way—the veterans had a special mail call. Each was given a large envelope with letters from their local representatives and from students of all ages, thanking them for their service, sacrifice, and example. Among Rich's mail were hand-drawn pictures and even a card from his dog, Chief. Alyssa also gave him a significant souvenir, an Honor Flight coin.
At the airport, the veterans were blown away at the reception: roaring groups from schools, churches, lodges, and clubs, holding colorful signs and noisemakers, as well as family members whom organizers had secretly coordinated to welcome back their loved ones. Rich's wife Marsha and daughter Michelle were there, brimming with emotion.
Rich had never heard of Honor Flights for veterans, and he was hesitant to explore going on one, but now, he is so glad he was persuaded. It's a day and a feeling he will never forget.
If you know a veteran who deserves the life-changing experience of an Honor Flight, visit the Honor Flight Network website to find a hub near you.
Additional Benefits for Veterans
There are additional VA benefits that are available to wartime veterans, which like the Honor Flight, some veterans may not be aware they are eligible for. If your loved one needs home care, our VetAssist mission is to make home care easily and quickly accessible for those who qualify through the VA Pension with Aid and Attendance benefit. Veterans Home Care can help you determine whether you or your loved one will be eligible to receive the benefit, which can cover some or all of the cost of home care, and we make it easy to apply. Chat with us via our website, or call us at (888) 314-6075.