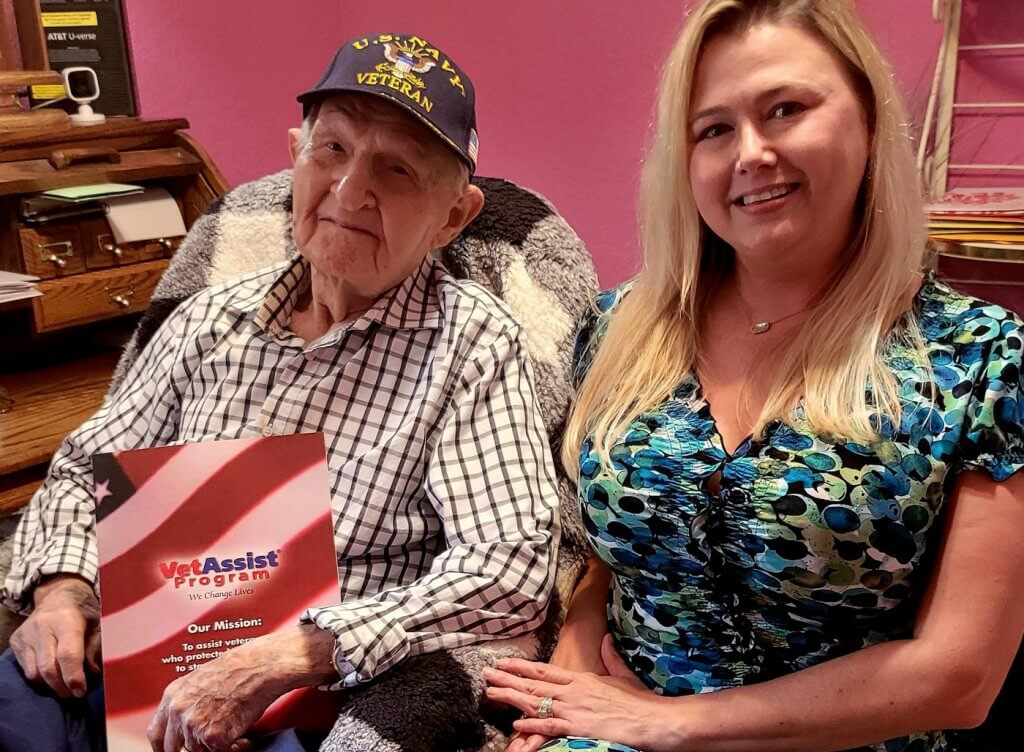 Happy 105 Birthday!
He's not a health expert, but you may want to know what William Parker Darwin eats everyday for breakfast. Parker is a 105-year-old WWII veteran celebrating his birthday on August 19. He recommends 2 kinds of cereal, strawberries, grapes, raspberries, blackberries and blueberries, toast with butter and jelly, and glasses of orange juice and V8. At his age, he takes no prescription medications, just vitamins.
How to live to be 105
Parker credits his longevity to good clean living. He's an avid reader who reads several books per week. Sadly, he outlived his third wife Louise.  Around his milestone birthday of 100, Darwin retired from his job as security guard at a convention center in Las Vegas, NV. That's right. He retired at the age of 100, 35 years after most people stop working.
After Mr. Darwin Retired at Age 100
"Around his birthday, he would celebrate by coming to Texas for a visit," says Barbara Motley, his widowed niece. "When he turned 100, he was in perfect health, but I could see he was unhappy and I asked him to come live with me. We were both feeling a little lonely." William has three children from his previous marriages but he doesn't see them much. Another upside to moving from Las Vegas to Texas is that it has allowed him to keep better in touch with his grandson.
Serving During WWII on a Navy Submarine
According to his niece, he served in the Navy on a submarine in the Pacific. Their mission was diving at night to clear coral and obstructions with explosives making a path for troops to land on various islands by ship. On board were members of an elite diving team called the Naked Warriors, also known as frogmen. The Naked Warriors were the precursor to today's Navy SEALs.
Seeking Help from Veterans Home Care
At 100, my uncle was in perfect health, but over the last few years we've both been slowing down, says Motley. In preparation for her knee surgery and recuperation, she decided to look into getting help at home for her uncle. She read something on Facebook about a company called Veterans Home Care and she checked into it.
Veterans Home Care is unique in that he helps wartime veterans access VA benefits for custodial care then hooks them up with caregivers and gets care started even before the VA funds arrive. Veterans Home Care has a nationwide network of trusted home care providers.
The benefit is known as Aid and Attendance. Veterans are eligible if they served at least one day during wartime and at least 90 days of active duty. A service-connected disability or combat duty is not required. The benefit pays up to $2,295 per month for custodial care.
DFW Senior Care is a VetAssist Network Provider
"It's been a real blessing," Barbara Motley says regarding the caregivers, Sharon and Morgan, who come four times a week from DFW Senior Care and help with meal preparation, laundry, changing the sheets and brightening his day.
"It's not uncommon for us to serve clients of 100+, yet having someone who begins needing assistance at 105 is amazing," says Heather Boyd, at DFW Senior Care.
For more information about Veterans Home Care's VetAssist Program, call 888-314-6075 or visit www.veteranshomecare.com