Giejo Magazine Article: Taking Care of Elderly Parents
Giejo Magazine, an online outlet for lifestyle, health and fitness news, profiled Veterans Home Care in their article: Taking Care of Elderly Parents May 5, 2022.
The article focused on how Veterans Home Care originated in 2003 as a solo female business and became a national home care leader with a unique niche. It described the business model as providing in-home care with no out-of-pocket costs. This service is achieved by helping seniors who qualify access an obscure VA benefit called Aid and Attendance to cover custodial care costs.
Seeking Help on Behalf of Elderly Parents
Typically, the person who seeks service is an adult child taking care of elderly parents. The parents need help with bathing, dressing, using the toilet, mobility, medication reminders, medical appointments, errands, shopping and more. Some of these adult children don't realize mom or dad may qualify for VA benefits to offset costs.
Giejo Magazine Reveals How Challenges Are Met with Innovation and Technology
Readers will learn about the VetAssist Program, Veterans Home Care's flagship service and the obstacles Bonnie Laiderman, the company founder, overcame. These challenges included issues surrounding the Covid pandemic when safety for clients, employees and network home care providers was the utmost concern.
Veterans Home Care joined forces with their national network of home care providers to overcome obstacles with the pandemic. They gathered information and became a hub of best practices and shared this information among providers through webinars, emails and more. Veterans Home Care employees were equipped with new computers to work remotely.
Veterans Home Care launched SmartCompanion Care LLC in 2020. This new Alexa powered technology was designed to meet the needs of both those who qualify for VA benefits, and those who did not serve or do not have ties to the military. The system helps reduce isolation and loneliness, replaces push button medical alert systems and enables voice-activated phone and video calling. It is pre-programmed and customized for each client.
Giejo Gives Business Tips from Entrepreneur Bonnie Laiderman
Bonnie Laiderman, the founder of Veterans Home Care, offers great advice to others who want to start a business.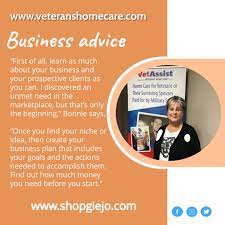 More tips for starting a home care agency
Entrepreneurs seeking information about starting a home care business may want to read:  How To Start A Home Health Agency or contact the Independent Home Care Alliance (IHCA), or National Association for Home Care and Hospice (NAHC) or the Home Care Association of America (HCAOA). 
Contact Us
For more information about in-home caregivers, adult daycare and the latest medical alert technology for yourself, your elderly parents or your clients, call Veterans Home Care at 888-314-6075 or email info@veteranshomecare.com. To join Veterans Home Care's VetAssist provider network click here, email info@veteranshomecare.com or call 314-416-244