Frank Wynn served his country proudly. Like many fellow members of the Greatest Generation, Frank seldom discussed his time in the service. He was a high school kid in June 1944 when he enlisted in the Army, with a year left in World War II. Frank was sent to Louisiana for basic training and was assigned to Infantry and Engineering, eventually rising in rank to sergeant.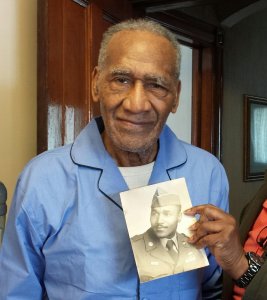 Sadly, the time for filling in details is waning. Frank is 92 and suffers memory issues. But, thanks to care arranged by Veterans Home Care®'s VetAssist® Program, he and wife Mary still live independently in their Englewood, NJ home.
"Dad is thriving!"
"Honestly, Dad is thriving as a result of the assistance he's getting," daughter Renee Straughn said. "VetAssist did a very good job picking the organization that helps him." At Home Companions, one of the contracted home care agencies who partners with the VetAssist Program provides the care. The VetAssist Program has a network of about 3,000 home care providers nationwide.
What is VetAssist?
The VetAssist® Program assists eligible veterans or their surviving spouses with a little-known benefit called "Aid and Attendance" from the Department of Veterans Affairs (VA). Veterans and their surviving spouses receive home care and assistance with activities of daily living thanks to an interest-free loan covering expenses while their application processes. In short, the VetAssist Program takes care of the men and women who took care of our country.
An Elder Care Solution
"We sought information from the county about elder care, and they suggested VetAssist," Renee noted. "They've been very, very helpful. The young man, Evan (Kaltman), helped with all the paperwork and helped arrange for home care."
"We received a referral from Nancy Smith, at the VNA in Englewood that led us to the Wynn family," said Evan Kaltman, managing partner of Veterans Home Care, NYJ. VetAssist clients come from referrals such as this or from direct contact to our website. "We don't 'cold call' and by that I mean we don't call seniors who haven't contacted us or who haven't been referred to us by someone in the community," said Evan.
Frank signed up with VetAssist Program in April 2016 and his home care began almost immediately, even as his application navigated the Department of Veterans Benefits. VetAssist provided a free, 0% interest, no fee loan that funded the care until July when Frank became entitled to the full pension amount with the Aid and Attendance benefit, which is now $2169 a month.
"Dad and Mom get an assistant for five days a week, for around 18 hours a week," Renee said. "It's been a big help. Absolutely!"
The Wynn Family
Though her father didn't talk much about his time in the service, one instance lodges in Renee's memory. The year was 1959 and the movie "Pork Chop Hill," starring Gregory Peck, had just been released. It chronicled a bloody battle from the Korean War in 1953.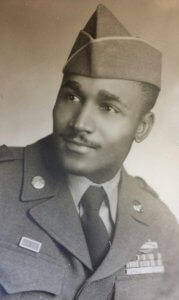 "It brought back some memories and Dad said 'I was in that battle,'" Renee said. "I remember that from when I was a kid, but that was basically it. He didn't say more about it."
More vivid memories were the annual trips to Plymouth, N.C, where Frank grew up. Each year, Frank and Mary piled five kids into a Country Squire station wagon and headed south, through Delaware then onto a ferry from Maryland to Norfolk, VA. "That was a big adventure for kids," Renee said.
In Plymouth, they visited a woman for whom Frank did chores as a youngster. She loved seeing Frank's kids and gave them candy. Frank also would take the family on a tour of spots from his youth, including a fishing hole and the road he walked to school. At one point, Frank donated a piece of land along the road so the local chapter of Jehovah's Witnesses could build a facility.
"One of the things Dad was proudest of was his many years as an elder in various Jehovah's Witnesses congregations, servicing the flock," Renee said.
Can VetAssist help your situation?
Those who wish to apply for Aid and Attendance, and choose to use their funds for in-home care or adult day care should look into VetAssist. The VetAssist Program is offered by Veterans Home Care, LLC, a private, family-owned business. While the company charges a market rate for care, no fees are ever charged to assist veterans or their families with VA paperwork or for a loan to provide care before VA entitlement.
To be eligible from Aid and Attendance, a veteran must have "the 3 M's" . . .
Military: Are you a veteran or the surviving spouse of a veteran who served at least 90 days on active duty, at least one day during wartime with an honorable discharge? (Persian Gulf War veterans must have two years of active duty or the full period of which they were called for active duty.)
Medical: Do you have a non service-connected medical condition causing you to need assistance with activities of daily living?
Money: Do you have limited income and assets? (Your home and car are exempt.)
Not sure if you qualify?
If you or a loved one is interested in learning more about the VetAssist Program, for both wartime veterans and their surviving spouses, please call 1-888-314-6075 or email: referrals@veteranshomecare.com